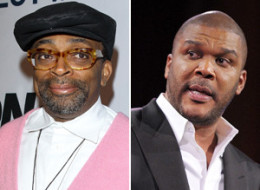 The long-simmering war of words between Tyler Perry and Spike Lee has is heating up again.
Perry, in both a message on his website and a press conference to promote "Madea's Big Happy Family," hit out against Lee, who in 2009 said, among other things, that Perry's films "harken back to 'Amos n' Andy'." While Perry's website message was vague and resilient, defending his work as both spiritually uplifting and fun, his words for Lee were blunt and harsh in the press conference.
"I'm so sick of hearing about damn Spike Lee," Perry said during the press conference (via Box Office Magazine).

"Spike can go straight to hell!

You can print that. I am sick of him talking about me, I am sick of him saying, 'this is a coon, this is a buffoon.' I am sick of him talking about black people going to see movies. This is what he said: 'you vote by what you see,' as if black people don't know what they want to see."
Perry's films are consistent high performers at the box office; all independently financed, they've taken in over $520 million in ticket receipts over the past six years. He recently extended his deal with distributor Lionsgate, with whom he has worked since 2005. Lee was critical in spite of that success.
"Each artist should be allowed to pursue their artistic endeavors, but I still think there is a lot of stuff out today that is coonery and buffoonery," he said in '09. "I know it's making a lot of money and breaking records, but we can do better. ... I am a huge basketball fan, and when I watch the games on TNT, I see these two ads for these two shows (Tyler Perry's 'Meet the Browns' and 'House of Payne'), and I am scratching my head. We got a black president, and we going back to Mantan Moreland and Sleep 'n' Eat?"
Perry cited Lee's previous lashings of other black media figures, including Oprah; Perry and the talk show queen worked together in 2009 when they executive produced the drama "Precious." Perry will also star in the upcoming drama, "I, Alex Cross," which he won't be writing/producing.
He was also angry about the perception that his film's characters were stereotypes that don't fit what African Americans are actually like in modern times.
|http://www.huffingtonpost.com/2011/04/20/tyler-perry-spike-lee-go-to-hell_n_851344.html|
In 2011 we learned that female rappers and black directors don't mix well.